Career Counselling Programmes
The college has a Placement Cell with a Placement Officer. When various sectors (Government and non-Government) inform our college about recruitment for services, training, apprenticeship etc., the Placement Cell properly notifies and guides the students about the matter.
Seminar/Programme on Value Education/Career Counselling
1. A programme of Career Counselling was jointly organized by Career Counselling Cell Rabindra Mahavidyalaya,Champadnaga, Hooghly and Eastern Institute for integrated Learning in Management (EIILM), Salt lake , Kolkata on 11.12.2015 where 86 students of various streams participated in the programme. The programme was presided by the Principal Dr. Manas Kumar Jana where Resource persons of EIILM like Dr.A Mallick, H.O.D.(H.R & O.B) and Miss P.Dey and Miss S.Mathew and NAAC coordinator Dr.U.K.Khan and IQAC Coordinator Dr.T.Bandhopadhyay were also present on that day. Basically the programme was on How to write the Curriculum Vitae or Resume for different kind of jobs. The Resource person from EIILM explained it in a nice manner and the students actively participated in the programme and raised their query in different ways which are being clarified by the resource persons.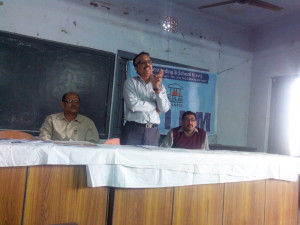 Resourse Person from EIILM Participated Teachers in Programme Participants in career counselling
2. Psychological Counseling Cell organized a seminar on value education on 17.01.2015. Swami Suparnananda, Secretary, Ramakrishna Mission Institute of Culture, Golpark, Kolkata, was the speaker.
3. Career Counseling Cell organized a seminar on opportunity in the area of 'Bachik Shilpo' on 29.03.2012. Jagannath Basu, wellknown figure in the field of oratorical art and ex-Director, Kolkata Doordarshan was the speaker.
4. Career Counseling Cell and Department of Commerce organized a seminar to popularize mutual fund and share market investments and to let the audience know about the job opportunities in the field. Siddhatrtha Chatterjee, Share market expert and related job manager, was the speaker.
5. Career Counseling Cell organized a seminar on employment opportunities in different arena on 27.03.2012. Two officers from District Employment Exchange, Chandernagore spoke on that occasion.